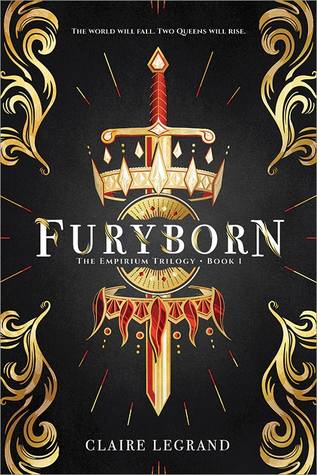 ☆☆☆
Follows two fiercely independent young women, centuries apart, who hold the power to save their world…or doom it.

When assassins ambush her best friend, the crown prince, Rielle Dardenne risks everything to save him, exposing her ability to perform all seven kinds of elemental magic. The only people who should possess this extraordinary power are a pair of prophesied queens: a queen of light and salvation and a queen of blood and destruction. To prove she is the Sun Queen, Rielle must endure seven trials to test her magic. If she fails, she will be executed…unless the trials kill her first.

A thousand years later, the legend of Queen Rielle is a mere fairy tale to bounty hunter Eliana Ferracora. When the Undying Empire conquered her kingdom, she embraced violence to keep her family alive. Now, she believes herself untouchable–until her mother vanishes without a trace, along with countless other women in their city. To find her, Eliana joins a rebel captain on a dangerous mission and discovers that the evil at the heart of the empire is more terrible than she ever imagined.

As Rielle and Eliana fight in a cosmic war that spans millennia, their stories intersect, and the shocking connections between them ultimately determine the fate of their world–and of each other.
This book was, well, let's call it an experience. I'd only read one book by Claire Legrand prior to this new release from her, and if you recall my review for Winterspell you'd know how impressed I was with her writing. Naturally, it'd make sense for me to want to check out this book and see what it was all about. Do I regret reading this book? No, not at all. Am I in love with it? Not particularly. Don't get me wrong, it was a pretty good story. I loved the fantasy of it all and found the characters to be intriguing but overall I was left feeling underwhelmed. There's a bunch of reasons why I feel this way, most of it being that I read this book in weird intervals and was constantly in and out of the story and I don't think this is the kind of book that you can do that with. But there's also certain elements and a portion of Legrand's writing style that underwhelmed and confused me. That being said, this book did have some enjoyable elements and I liked it enough to not only give it 3 stars but to want to continue with the series.
I may or may not spoil parts of the book so just in case, a minor SPOILER ALERT will be in effect.
THE GOOD
Personally, the best thing about this book for me was the relationships and I feel like that might be the most important thing when thinking about the book and series overall. A lot of the times, YA fantasies can be driven by the fantasy aspect and the relationships become secondary plot lines, which is totally ok. I'm not mad at those series. But I also feel with fantasy heavy series that there's too much focus on keeping the fantasy surprising and not really thinking about character development. Though, the same can be said when it's relationship heavy that it allows for various plot holes. In my opinion, I feel like Legrand has such a clear vision on her fantasy world and overall plot that it allows her to focus more on her characters and their relationships and I really think it's the driving point of the book. I really enjoyed seeing how much Rielle and Audric meant to each other and I admired how Legrand actually let these two characters be together, even though Audric is engaged to his cousin (hold on, this calls for an ew), and the cousin, whose name is slipping my mind, supports them and doesn't stand in their way. And the overall friendship between the three of them is also incredibly important; they constantly support and love each other no matter what and they have such an unbreakable element to them. Now, switching to Eliana, I am so into the potential relationship between her and Simon and honestly it's the like the biggest thing that kept me going. They have that enemies to lovers vibe going for them, especially since it seemed like they both wanted to kill each other in the beginning. But as it was revealed later on how Simon was the one who essentially saved Eliana's life, he deeply cares for her so it was interesting to see how that care would come through throughout their time and then how Eliana soon began to develop her own feelings. This is the one time where I do not care about the age difference. I want them, I am into them, please give them to me. And there's also the relationship between Eliana and her younger brother and the princess she befriends on the way, who becomes someone she can truly trust and I think that was very important for her character because it allowed her to open up to someone. I like how Legrand has such a strong focus on the idea of girls supporting girls as opposed to pitting them against each other and I think that's another good takeaway from this book.
The overall plot was fine, nothing too special, but I do like the magical element of this world and I also like the involvement of angels. I feel like angels is the one supernatural creature that I don't see a whole lot of in YA but it's something I'd like to see more. And like I saw in Penryn and the End of Days, angels seem to be the antagonist in this world and it's a rather interesting concept. I like when creatures who have reputations for being good and peaceful are used for antagonizing purposes. It's not the most refreshing thing, since I've seen it before, but it's refreshing nonetheless. I'm interested to see where else this goes.
It's very rare that I don't hate a single main character in a book and that's exactly what happened here. I loved both Rielle and Eliana's characters regardless of how I felt about the writing and I love that Legrand made them both badass ladies in their own way. I might gravitate more towards Eliana because I found her to be more intriguing, but I think Rielle is intriguing in a mysterious way, particularly how she has such a dark reputation in the future. I like seeing how Rielle becomes stronger as she continually develops her magic and learns how to truly use it at it's highest potential. I like how Eliana is a near indestructible assassin and constantly knows how to hold her own. She's also a bit of an inspiration when being told "I love you" and responds with "you're telling me this now?" in the middle of a fight. I feel like they're both great YA female characters and I can't wait to see where Legrand takes them throughout the series. I also really enjoyed the secondary characters, like Audric and Simon, and I'm absolutely interested in Simon's life and whatever happened to Audric because both timelines suggest something completely different, and I think there's gonna be a few surprises along the way with both characters equally.
THE BAD
I feel like in theory, the idea of having the narrative span over a thousand years between Rielle and Eliana is a good one but in reality, it just doesn't work. It honestly felt a bit too ambitious for me and can only work if it's done right and I don't think it was done right here. What I mean by that is that when we read Rielle's POV in the past it felt like it didn't really matter because it was just that: in the past. Nothing about Rielle's life can change and it seemed to serve more as a history lesson than an important plot line. And then when we get to Eliana's POV, there are a lot of mentions about Rielle's life and what happened to her and that's where majority of my issue lie. Eliana tells us how Rielle ended up so we already know that she ends up becoming the Blood Queen rather than the Sun Queen, which is what everyone in Rielle's current timeline believe she will become and it leaves you thinking "why does any of this matter if she's not actually the Sun Queen?" It just felt like a waste and takes away a lot of potential exciting plot twists. Legrand definitely gave equal attention to both Rielle and Eliana, but I was honestly more invested in Eliana's POV because she was more exciting. It was also obvious that she was Rielle's daughter so there's still some potential left in that plot line but it's also a bit confusing to think about what's really going on with all of that. I didn't hate the time jumps between the two girls because they're time jumps, I actually liked the two timelines, but there just seemed to be so much disconnect. I feel like it would've been better if the book was solely Eliana's story and then have Rielle's story serve as novellas or a prologue/epilogue kind of thing. It's a good theory, but not a good practice. I'm sorry Miss Legrand.
There was some world building in this book but it wasn't really noteworthy. I feel like it comes back to the whole dual POVs and timelines thing where it was hard to really understand the world and how it evolved between timelines. I felt like I was constantly trying to figure out how each world connected and how Eliana ended up where she was but it seemed like a concept I couldn't really grasp. Ultimately, the world was something I thought the least about because I didn't get it. It was there, but it wasn't that much of a priority.
Now that I think about it, I couldn't care less about the trials that Rielle had to go through to prove that she's the Sun Queen. There's nothing else I can really say but they were too long and I just didn't really care.
THE BOTTOM LINE
This is a book that you honestly have to commit to fully or else you're going to be left feeling underwhelmed. But it's also one that can come off as being overly ambitious even though it has a potentially good story at it's core. It might not be the most impressive YA fantasy that I've read but I can absolutely see its potential and I feel like it's a good start to a series.
BONUS: how this book made me feel in a GIF
ABOUT THE BOOK
Title: Furyborn (Empirium #1)
Author: Claire Legrand
Release Date: July 22, 2018
Pages: 512 (Paperback)
Goodreads
Until next time,
What did you think of the book? Leave a comment below!