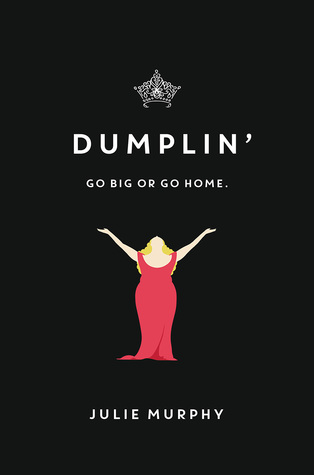 ☆☆☆
Self-proclaimed fat girl Willowdean Dickson (dubbed "Dumplin'" by her former beauty queen mom) has always been at home in her own skin. Her thoughts on having the ultimate bikini body? Put a bikini on your body. With her all-American beauty best friend, Ellen, by her side, things have always worked…until Will takes a job at Harpy's, the local fast-food joint. There she meets Private School Bo, a hot former jock. Will isn't surprised to find herself attracted to Bo. But she is surprised when he seems to like her back.

Instead of finding new heights of self-assurance in her relationship with Bo, Will starts to doubt herself. So she sets out to take back her confidence by doing the most horrifying thing she can imagine: entering the Miss Clover City beauty pageant—along with several other unlikely candidates—to show the world that she deserves to be up there as much as any twiggy girl does. Along the way, she'll shock the hell out of Clover City—and maybe herself most of all.

With starry Texas nights, red candy suckers, Dolly Parton songs, and a wildly unforgettable heroine—Dumplin' is guaranteed to steal your heart.
I am definitely the type of person who loves to jump on the bandwagon and as soon as I saw the Netflix movie for Dumplin', I knew that I had to read the book. It was just too cute of a story for me to flat out ignore the source material. In retrospect, I kind of wish that I had read it before watching it because a tiny part of me feels like it didn't quite live up to the expectation I had created of it in my head. There were some things that were definitely done better in the book, but there were also things that kind of made me wish that I had either read it prior to the movie or the actual year that it came out. It was a lovely story, with really important messages and takeaways, but I guess I expected something a bit better. I want to emphasize that I did very much enjoy it and therefore am giving it a solid 3 stars. I think I just wished for more.
THE GOOD
The most important takeaway from this book is the message of body positivity. One of the things that I don't see a lot of in YA, or I guess any kind of Lit these days, is a protagonist that's "fat" or plus sized or has a bigger body, whatever you want to call it. And if I do, then the person is either just the token fat friend or is ridiculed beyond belief or is redeemed by some kind of transformation. But Willowdean was the kind of character who was comfortable with her body and, quite frankly, owned it. And furthermore, seeing someone who looks like her actually fall in love and have someone who is her polar opposite fall for her because of who she is and not her body, is something that kind of brought tears to my eyes. I feel like representation where body types is concerned is something that we are seriously lacking and I know we talk about representation for POC and LGBT, but I think this is something we should also be talking about. I want to see more people like Willowdean who accept and love themselves the way she does and doesn't let her appearance hold her back, and ultimately fall in love with people who deserve them.
I really enjoyed Willowdean's character, mainly for the reason I just stated, but I also felt like she was incredibly relatable. At least for me personally. When we first meet her, she's confident about herself and embraces her body, never letting the word "fat" hurt her in any way, but she went through a lot of insecurities when her relationship with Bo started and that hit me more than I expected it would. It was like thoughts that went through her mind were ones that went through my mind and all of it brought a lot of old feelings back to the front and helped me to connect with her. It also made me respect her and I feel like she is a good character to inspire other people, especially younger readers, and I want to see more characters like her.
The relationship between Bo and Willowdean was the absolute star of the entire book. I loved seeing someone like Bo, who's this ex-jock and silent brooder, just fall for Willowdean for no other reason other than that he likes her. I loved seeing how much he would compliment her and call her beautiful, and just want to be around her all the time. It also made me hopeful for other people like Willowdean who will someday find someone like Bo who will love and value them. They made me cry a lot too, just seeing how much Bo really cared about her, most of the time in his own silent way, but cared nonetheless. He was so sweet, and not really what I expected but was, if that makes sense. I just loved him and seeing those two together was beautiful.
THE BAD
To me, this book read a bit too young for my taste. I don't want that to be a bad thing, because the story itself was quite lovely, but some elements made it feel like this was a book more for a younger adult. And that makes sense cause this is Young Adult lit. However, this is the younger side of YA even if the content was more for the older side, such as the language and relationship discussions. It reminded me of the kind of writing I've seen from Jenny Han and Kasie West, which is very sweet and cute contemporary writing. Again, not bad, but it's not the kind of writing that will give me breathtaking quotes, if that makes sense. It made a very easy and fast read, but I just wish it was slightly older-feeling.
With how young the writing felt, it did however make the characters feel more like their ages. But it also felt like some things were blown a bit out of proportion and then settled relatively quickly, especially around the fight between Willowdean and Ellen. I'm sure it made sense for the age group but it didn't really move the story along in that typical organic way.
There was one part about Bo and Willowdean's relationship that bothered me was how he kept her a secret for the three months in the summer, even though he might not have done that intentionally, but it still hurt. It gives that implication that anyone with someone like Willowdean is ashamed to be seen with her and wouldn't want anyone to know and that's not something I want to see. But then we had Willowdean call him out and saw Bo actively change his behaviour where she's concerned so it paid off in the end but it irked me personally. I also didn't like how Willowdean kind of strung Mitch along, unintentionally, and I felt bad for him.
THE BOTTOM LINE
This is a very cute, sweet, and enjoyable book that just radiates body positivity. It makes you see people for who they are and value them for so many reasons beyond the superficial, and it made my heart sing. Also, you learn to love Dolly Parton more than you ever thought that you would. I will say though that you should read it before watching the movie and you can thank me later.
BONUS: how this book made me feel in a GIF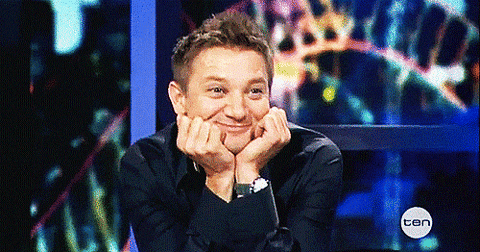 ABOUT THE BOOK
Title: Dumplin'
Author: Julie Murphy
Release Date: September 15, 2015
Pages: 371 (Paperback)
Goodreads
Until next time,
Twitter ♡ Instagram ♡ Goodreads
What did you think of the book? Leave a comment below!