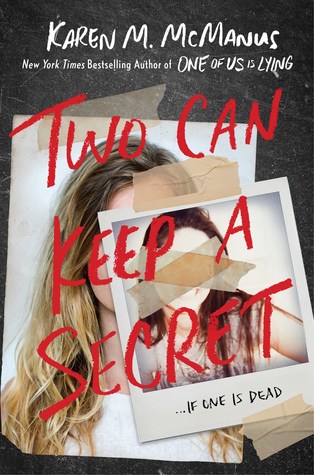 ☆☆☆
Echo Ridge is small-town America. Ellery's never been there, but she's heard all about it. Her aunt went missing there at age seventeen. And only five years ago, a homecoming queen put the town on the map when she was killed. Now Ellery has to move there to live with a grandmother she barely knows.

The town is picture-perfect, but it's hiding secrets. And before school even begins for Ellery, someone's declared open season on homecoming, promising to make it as dangerous as it was five years ago. Then, almost as if to prove it, another girl goes missing.

Ellery knows all about secrets. Her mother has them; her grandmother does too. And the longer she's in Echo Ridge, the clearer it becomes that everyone there is hiding something. The thing is, secrets are dangerous–and most people aren't good at keeping them. Which is why in Echo Ridge, it's safest to keep your secrets to yourself.
To those who are new to my blog, you might not know how much I did not shut up about Karen M. McManus's debut book in 2017, One of Us is Lying. I fell so in love with that book and even called it the best book of 2017. It was so unbelievably good that I knew I would want to read anything by this author in the future. So, when I discovered she had a new book coming out in 2019 I was beyond excited. I was ready to dive into a new, twisted mystery and hoped for the same experience I had a year and a half ago. Now I'm starting to wonder if I hyped it up a bit too much. It's not that this was a bad book or that I hated it completely because of course I enjoyed it. It was a good mystery and I had fun trying to figure out how to solve it. But I think I kept expecting the same feelings I had with One of Us is Lying and it therefore left me feeling unfulfilled in a way. It was still a good story but I just personally feel like there could've been more.
THE GOOD
I really enjoyed the characters in this book, particularly the two protagonists Ellery and Malcolm. I liked how they were both connected enough to the past of Echo Ridge but not enough that their stories were carbon copies of what happened with their connections. For Ellery, it was her mother and for Malcolm, it was his brother. What I mean is that while they're both being targeted for what appears to be history repeating itself, they both worked on ensuring that it wasn't their fault or they won't have the same outcome as before. I really loved Ellery and how she has this true crime obsession and how she's suspicious by nature, something that I am as well. I mean, I was suspicious of like every character in this book and came up with motives for almost everyone just like Ellery did. But I also saw how her relationship with her mother, or lack thereof, had a bigger effect on her than she thought and I was happy to see that explored and dealt with throughout their course of communications. With Malcolm, I felt like he was a good example of like the typical teenage boy who wasn't obscenely big or played a bunch of different girls, or was even a star athlete. He was a bit of a band nerd who kept his head down and kept to himself, even if most of that was a result of his brother. He didn't go looking for trouble and actually tried to get along with his step-family rather than walking around, brooding all the time and causing trouble. And while he doesn't have that same obsession as Ellery for true crime, he does want to clear both his brother's name and his own and prove that they had nothing to do with either incident. I like that he actually cares about his reputation, and his family's reputation, and felt he was a solid lead for this book. The side characters, such as Ezra, Mia, and even Ryan were also wonderful additions and I'm glad I wasn't thrown for a loop by any of them because I would've been heartbroken if Ezra ended up being behind everything, regardless if it made sense or not.
While the town of Echo Ridge is your typical small town, as stated in the story, it's not a place where you find a whole lot of diversity but I think McManus did the best she could with what she had. The first point is how she recognized that in such a town, diversity isn't typically found and it's something that the people of the town turn their nose down at. But she tried and I think the diversity that I saw was good. There was the implication that Ellery and Ezra were Latinx, which we now know is true I suppose, the Kwon family, and a couple mentions of 3 other POC kids at the high school. Additionally, we had LGBTQ rep from both Ezra and Mia, which is also abnormal for such a small town. It's not the best rep I've seen in a book in 2019 but I can recognize that it makes sense for the setting. I think maybe if Ezra and Mia were main characters as opposed to secondary it would've been better but it's alright for now. I've followed McManus on Twitter for a while now and I know she cares about the representation issue so I know that she's actively working it into her writing so that's why I believe this is a good point of her book.
I was a bit surprised to see the romance between Ellery and Malcolm be such a subplot but I think in the grande scheme of things, it makes so much sense and I'm glad that it didn't go beyond a kiss and one date. There was so much going on around them that they didn't really have time to explore a real romance, which if this was another book would've happened at least halfway through. I think that what happened between them was handle quite nicely for the situation and it's so cute just seeing two teenagers actually act like teenagers and have crushes on one another and experience all the typical crush feelings. It was done well for the characters and the story itself and I'm really satisfied with how it was written.
THE BAD
So, here's the thing: I was surprised with who was behind all of this but I was also confused and a bit disappointed. It definitely exudes a creepy message and a giant warning, but I personally don't think it connected to what was going on. I expected to see a bigger connection to both Sarah's disappearance and Lacey's death, and there was a connection for sure, but it let me down. I liked how this person was hiding in plain sight and I never suspected them for a second, but with the factors of disappearances and the homecoming warnings, it just didn't add up and make me gasp in shock. I think discovering the who and why of the homecoming warnings let me down more and bothered me when adding that up to who's behind the actual murders.
It feels like everything was wrapped up so quickly and nicely and I wasn't happy with that. It was like we got an explanation rather than a confession and it leaves me feeling a bit empty, I suppose. I love McManus's writing, for sure, but I think that she was a bit too quick to tell me what happened rather than exploring the why of it all. I don't know, but it just felt too neat and tidy of an ending.
We never really found out anything about Sarah and her disappearance and I'm annoyed. I wanted to know what happened and how that connected to Lacey, and I guess in a way it did, but it also didn't. It's hard to explain without giving spoilers so I'll just leave it at that.
The title of this book didn't really match up to the content the way I expected it to and I think the wild theory I made up in my head would've been better.
THE BOTTOM LINE
While the characters and overall mystery of this book were great, the ending and the question of who was behind it all left me feeling a bit flat. I do think you should give it a chance if you want to get tangled into a fun mystery, but it's not going to thrill you as much as you'd expect it to. Anyways, where's Nate Macauley what's he up to?
BONUS: how this book made me feel in a GIF
ABOUT THE BOOK
Title: Two Can Keep a Secret
Author: Karen M. McManus
Release Date: January 8, 2019
Pages: 336 (Hardcover)
Goodreads
Until next time,
Twitter ♡ Instagram ♡ Goodreads
What did you think of the book? Leave a comment below!