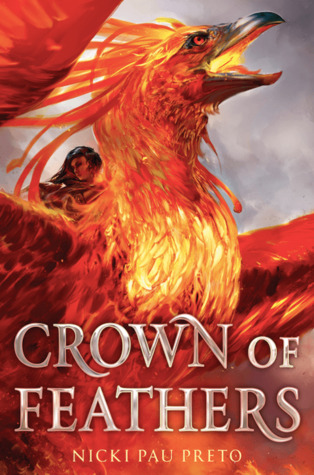 ☆☆☆3/4
I had a sister, once…

In a world ruled by fierce warrior queens, a grand empire was built upon the backs of Phoenix Riders—legendary heroes who soared through the sky on wings of fire—until a war between two sisters ripped it all apart.

I promised her the throne would not come between us.

Sixteen years later, Veronyka is a war orphan who dreams of becoming a Phoenix Rider from the stories of old. After a shocking betrayal from her controlling sister, Veronyka strikes out alone to find the Riders—even if that means disguising herself as a boy to join their ranks.

But it is a fact of life that one must kill or be killed. Rule or be ruled.

Just as Veronyka finally feels like she belongs, her sister turns up and reveals a tangled web of lies between them that will change everything. And meanwhile, the new empire has learned of the Riders' return and intends to destroy them once and for all.

Sometimes the title of queen is given. Sometimes it must be taken.
I received this book in my February OwlCrate box and let me tell you, I was beyond excited for it. It sounded like such an amazing premise, the cover was gorgeous, and this special edition had purple stained edges! I don't think you understand how important stained edges are to me but this was like the highlight of getting this book. I will admit that I was going to put off reading this book for a bit, since I had the idea to make March an entire month of just fairytale retellings, but the stained edges were calling my name. So clearly, this book won out. It wasn't the easiest read, since the first 20% or so was just a lot to take in and it almost made me pick something else up instead, but I stuck with it and I'm beyond glad I did. I finally found that spark to get me going and once I got over that hump, it just got better and better. The plot fell into place, the characters began to shine, and Pau Preto found her writing groove. It wasn't perfect, but for a debut it was pretty damn good.
THE GOOD
I think the best thing for me about this book were the main characters. I found Veronyka to be completely fantastic, Sev to be amazing, and Tristan to be a bit of a pleasant surprise. When I first started reading, I wasn't sure how or why the POVs from the boys would be relevant but once I found the spark to get me going, it all made sense. I kind of fell in love with Veronyka almost immediately and loved watching her go through the development of more or less being submissive to her sister to standing up to her sister and then finding her stride with the Riders. I'm also always here for the trope of when a girl pretends to be a boy to get what she wants in an environment where girls are "banned" and comes out being so much stronger than the men. What a classic. But I also felt like Veronyka had a lot of compassion, not just towards people but towards animals and it was evident in the way she used her magic. Val was all about getting Veronyka to made the animals obedient with her magic but Veronyka would rather create trust and create some kind of friendship with the animals. It allows her to be a stronger animage and a better person, and I respect that. With Sev, I automatically wanted to protect him because he was almost a war orphan of sorts and believed no one needed him. But I like how he has this calculated way of thinking and he's always making sure he knows everything he needs to but doesn't let others know how much he truly sees and knows. I like the arc his character was given and I found his position as an empire soldier to be really interesting and I can't wait to see where his character will go next. Finally, there's Tristan who completely caught me off guard and potentially became my favourite character. He was that typical character living in his father's shadow and constantly wanted to prove himself, but he had a surprising vulnerability that I didn't expect. I really loved seeing him with Veronyka and how he really grew to trust her and even when he discovered her secret, he cared about who she was rather than her gender. I didn't know how these three would be connected at the beginning of the book but I see it now and I can see how much they all truly matter.
Ok so technically there isn't any romance explicitly stated in this book but there's like hints here and there and I'm not saying that my overall enjoyment of the duology will depend on this one ship, but it kind of does. Before meeting Tristan, I expected there to be a romance between Veronyka and Sev but I'm happy Pau Preto didn't go that route because she's much better suited with Tristan, romantic or not. I love how even though she was lying to him, they managed to build such a strong friendship and a true partnership that you know will be the key to everything in the end. And as I said, Tristan already accepts Veronyka for who she is and I think if they just build back the slight bit of trust he lost in her they'll be unstoppable. Now, the ship that I care most about is Sev and Kade. I don't know how anyone can't see that there's something between them. Their chemistry is insane, they have such an enemies vibe to them, given how it's easy to hate each other but liking them is "difficult" (Kade's words, not mine), and they just have so much tension. I need these two to be together. My soul needs them to be together. Please. Or else I'm boycotting (not really but ya know).
There was an interesting twist near the end which, in my opinion, put the whole book into perspective. A lot of the time I kept thinking that the history of the Blood War and the two sister queens (or whatever they were) weren't necessary for this story, and the quotes from Avalkyra at the beginning of each chapter were useless to the story at hand. But that one twist changed everything. It made the book worth every single page and I want to see where Pau Preto intends to take the rest of this story, but I am completely on board. It was the kind of twist that made everything seem full circle, which I love, and made me see everything in a new light.
THE BAD
I think the biggest issue I had with this book was how slowly it started. Don't get me wrong, it's very important to establish your world and go over all the history and terminology that the reader might need to know, but doing it for a solid 50 or so pages in the beginning just felt like the equivalent to climbing Everest. It felt like Pau Preto would do a bit of characterization and plot and then just dump a boat load of history on you. It's not bad, but it's a lot. And if this were a 300+ page book, I would find it to be a big problem but since we're borderline 500 pages here I can forgive it. And that this is Pau Preto's debut, I can be more forgiving. It just felt like there were a lot of times where too much time went into explaining what terms meant and going over the history and outcomes of the Blood War. Like I love learning history, real or fake, but it just took up too much time that I don't personally have.
I would also like to note that in the synopsis for this book, it seemed to promise a story revolving around two sisters, Veronyka and Val, and their journey to becoming Phoenix Riders so one would assume they'd have the two POVs here. But all of a sudden you get a random empire soldier's POV and later on another boy who's a Phoenix Rider's POV and it's like "but they weren't mentioned in the synopsis? What's happening?" I don't hate the POVs, since I already said how much I ended up loving the characters, but it's a bit of a shock for someone who's only read the synopsis and thinks it'll be this feminist/female empowered-type story. So yeah, there's a bit of misleading going on here but it worked out in the end.
THE BOTTOM LINE
If you're going to read this book, my suggestion is to completely ignore the synopsis and just read the thing. The history will bore you for a bit but I think it'll be worth it in the end for you to stick it out. The plot becomes clearer and more interesting as you go, the characters are all lovely people, and the "romance" is just perfect. And come on, for an author to go through all the trouble of providing you not only with a glossary at the end BUT an entire historical timeline for it to be deemed unworthy? Not in my house.
BONUS: how this book made me feel in a GIF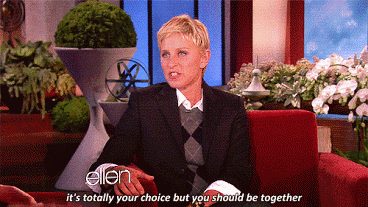 ABOUT THE BOOK
Title: Crown of Feathers (Crown of Feathers #1)
Author: Nicki Pau Preto
Release Date: February 12, 2019
Pages: 496 (Hardcover)
Goodreads
Until next time,
Twitter ♡ Instagram ♡ Goodreads
What did you think of the book? Leave a comment below!