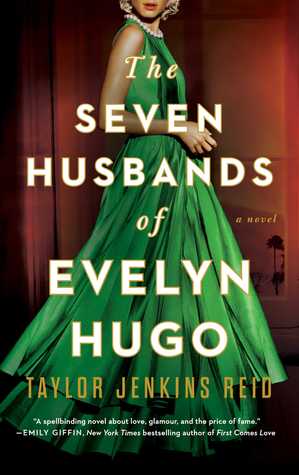 ☆☆☆☆1/2
Reclusive Hollywood icon Evelyn Hugo is finally ready to tell the truth about her glamorous and scandalous life. But when she chooses unknown magazine reporter Monique Grant to write her story, no one is more astounded than Monique herself. 

Determined to use this opportunity to jumpstart her career, Monique listens in fascination. From making her way to Los Angeles in the 1950s to her decision to leave show business in the '80s – and, of course, the seven husbands along the way – Evelyn unspools a tale of ruthless ambition, unexpected friendship, and a great forbidden love. But as Evelyn's story near its conclusion, it becomes clear that her life intersects with Monique's own in tragic and irreversible ways.

Written with Reid's signature talent for creating "complex, likeable characters" (Real Simple), this is a mesmerizing journey through the splendour of Old Hollywood into the sobering realities of the present day as two women struggle with what it means – and what it costs – to face the truth.
I'm sure I'll sound like a broken record if I say that you have no idea how good this book is, because everyone before me who's read this has said that time and again, but seriously, you have NO idea how good this book is. I'm typically wary when I go into a book that's constantly being talked about and gushed over and part of me worries that it's overhyped and not as good as everyone says it is. I don't necessarily think of myself as hating things that people love just to be "different" but I can sometimes have different tastes. Thank god that this book lived up to the hype and I was wrong (even though I never truly believed that I'd be right). I so wanted to give this book the full 5 stars but there's a part of me that just can't, no matter how magnificent I think this book is. It pulled me in almost immediately and gave me everything I wanted and more. There's a very good reason why everyone was talking about this book and if you've read it, you know exactly why.
I'm not entirely sure if I can stop myself from revealing spoilers, even though this book is almost two years old and I'm the last to jump on the bandwagon, but just in case here's a SPOILER ALERT.
THE GOOD
I think the first thing to understand is that Evelyn Hugo is the definition of power move. She is the definition of boss ass bitch. She knows exactly what she's doing with everything she does. She speaks, acts, and lives with purpose. She gives you what you want from her, but not everything, so you'll always be left waiting for just a bit more. She knows what she wants and she does everything in her power, and out of it, to get it. Evelyn Hugo is the kind of woman we all dream to grow up to be. I have never met a character quite like Evelyn before and it's almost as if I can't look back at any other female character I've met prior to her, and I think that was the point Taylor Jenkins Reid was trying to get across when writing this book, beyond the plot of course. We first meet Evelyn in the present time when she's 79 years old, finally ready to tell her life story, but we are able to follow Evelyn's entire journey through stardom, through the ups and the downs, and her final days. It was so mesmerizing to see how Evelyn scraped her way to the top of Hollywood, doing what she thought she had to do to get there, and watching her fall just to climb back up again. Evelyn's character is an example of strength and determination, and how if you want something enough you have to be ruthless. And even though she wants the world to think she's a white woman, you know that she's doing all of this as a Cuban woman, which makes it that much more important. I could honestly go on and on about how fantastic Evelyn is but then I wouldn't be able to get to the point of this review. But there's just something about Evelyn that makes you want to keep talking about her, want to keep noticing everything about her, to pay attention. That is the Evelyn Hugo effect, and it shows that Reid can write one hell of a character.

I can't really describe how well written this book was but there was just something about Reid's prose that pulled me in immediately. Whether it was beginning the book in Monique's POV and switching mostly between her and Evelyn's past POV, it just worked. And I think the overall premise of the book worked for the narrative structure. When we were in Evelyn's POV, it was in times where she would be telling Monique about her life for the biography so it was as if she was telling the story to us, and you could kind of have one foot in her story and one foot in imagining you're sitting across from her as Monique, listening to what she has to say. I've encountered many books before where the narrative goes back and forth from the past and the present, and majority of the time it's not done in a great way and therefore it gets on my nerves. But not here. I felt like this was the perfect narrative for this story because we needed to not only be in the present with Monique to understand Evelyn but we needed to go directly into Evelyn's past to make sense of everything as a whole. I think Reid wrote the same way that Evelyn lived: she gave us enough to keep us happy, giving us almost the whole story, but keeping enough to herself to keep you wanting more and not being able to stay away.
The romance of this book is obviously the biggest selling point of it all, given how it's about how Evelyn Hugo had seven husbands, and you believe that there had to be one out of the seven that she loved the most. There had to be one person in her life that loved her the way she deserved to be loved and Evelyn loved them back. And there was. But it wasn't one of her husbands. It was Celia St. James, her initial competition turned best friend turned lover. Their love story is a complicated one but for Evelyn, it was worth it. And as the book goes on, you see that the first two of Evelyn's husbands were to either get her career started or because she genuinely loved him, but every husband after that was a ploy to be with Celia. Now, you have to remember that majority of this story is set in the 50s and 60s, where being anything but straight was highly uncommon and wasn't a thing that was spoken of or thought of as being acceptable. So Evelyn married man after man in hopes to keep the gossip off of her and Celia, to be with Celia, to keep them both safe and happy. And it worked most of the time. But there were a lot of times where the two couldn't be happy keeping the secret and would break up, yet they always came back to one another. Learning that it was Celia rather than her husbands that was the love of Evelyn's life was so beautiful and breathtaking and watching how she would do anything to protect her, the woman she loved, was incredible and powerful.
The major twist in the story, of how Evelyn and Monique were truly connected, was something I never saw coming and blew me away. I kept thinking of all the ways they could've been connected, of how maybe Monique was a granddaughter of hers, a product of one of the marriages. But when the truth came out I almost couldn't believe it. And again, it shows how how Reid gave you everything you wanted to know about Evelyn, but kept that one piece to herself until she was ready to give it to you. It wasn't a cop out, it wasn't cheap; it was simply perfect.
From the title alone, you think you're just going to read the story of how a woman fell in love seven times with seven different men. You think you're going to meet a woman who has a negatively sexual reputation, one who either can't keep a man or can't stay away from men. You probably go into this book already thinking the worst of Evelyn Hugo. And that's exactly what Evelyn wants you to think. This is the persona she puts out to the world, not entirely as a defence mechanism or a way to protect herself and her alone, but to protect those she loves as well. I love how you start this book thinking that Evelyn Hugo is going to be some kind of Hollywood whore (bad choice of words, I know) and you are proven wrong time after time. I had never read a book by Taylor Jenkins Reid before this one but she's already gotten me hooked on her with this one book.
THE BAD
I do have one minor complaint, which is why I can't give it the full 5 stars, and it has to do with Celia. I feel like a lot of the time, Evelyn was the only one fighting for their relationship and Celia would tend to play the victim when they were having troubles. I know that Evelyn said that she was only giving Celia 50% of herself while the other 50% was for her career, and I get and see that, I do, but I feel like some of the time Celia wasn't being entirely fair in their relationship. In their times apart, Evelyn knew that Celia had been with other woman and she was fine with that, but Celia couldn't bear the thought of Evelyn being with other men which shows me that she wasn't fine with Evelyn's bisexuality. Most of their arguments came down to a man sometimes, and I could see that it made Celia insecure that Evelyn loved both men and women and I didn't like how that was never acknowledged or addressed the way it should've been.
THE BOTTOM LINE
This has to be one of the best and truly addictive books I've read in a while. You come in for all the gossip and scandal that you believe followed Evelyn Hugo but you stay for the true love at the centre of the story. You come for the glitz and glamour of making it in Hollywood in the 50s but you stay for the resilience of an incredibly strong Cuban-American woman. Like I said, I'd never read Taylor Jenkins Reid before this but I feel like this is a name I'm going to be adding to my list over and over again. If you take away one thing from this book, it's that Evelyn Hugo really is That Bitch.
BONUS: how this book made me feel in a GIF
ABOUT THE BOOK
Title: The Seven Husbands of Evelyn Hugo
Author: Taylor Jenkins Reid
Release Date: June 13, 2017
Pages: 400 (Paperback)
Goodreads
Until next time,
Twitter ♡ Instagram ♡ Goodreads
What did you think of the book? Leave a comment below!