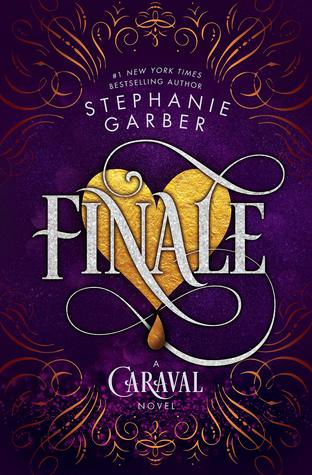 ☆☆☆☆
Welcome, welcome to Finale, the third and final book in Stephanie Garber's #1 New York Times bestselling Caraval series! 

A love worth fighting for. A dream worth dying for. An ending worth waiting for.

It's been two months since the Fates were freed from a deck of cards, two months since Legend claimed the throne for his own, and two months since Tella discovered the boy she fell in love with doesn't really exist.

With lives, empires, and hearts hanging in the balance, Tella must decide if she's going to trust Legend or a former enemy. After uncovering a secret that upends her life, Scarlett will need to do the impossible. And Legend has a choice to make that will forever change and define him.

Caraval is over, but perhaps the greatest game of all has begun. There are no spectators this time: only those who will win, and those who will lose everything.

Welcome, welcome to Finale. All games must come to an end…
It's amazing how fast the Caraval series has become one of my top favourite series which, in my own personal opinion, is a pretty hard thing to do given how particular I can be. But the things that Garber did with not only the overall story but her characters were things that I personally love and are things that I feel like I'm constantly looking for. I feel like when you read the first book, there are a lot of assumptions to be made about how the rest of the series can go and they can be the easy, predictable ways, but I love that Garber went in a completely different direction and still managed to make everything work and connect. I really wanted to give this final book more than 4 stars, since I felt like Garber really was going to go out on a bang, and she did, but it just wasn't enough to really, truly blow me away. But, on the bright side, it just means that this entire series is a solid 4 stars for me (maybe 4 1/4 stars) and it's made me happier than I've been in a long time.
Because this is the final book of the series, I might have to reveal some things in order to get my point across so here's a SPOILER ALERT just in case.
THE GOOD
I think the strongest thing about this series was how well plotted and thought out everything was and it shows me how strong of a writer and creator Stephanie Garber is. With the first two books, they each focused on their own respective Caravals and yet they were completely different. She easily could've done the same thing twice but didn't. And with this third book, there are no more games and it's more about dealing with the repercussions and consequences of Caraval and Legend's magic. I like that while the Deck of Destiny and the Fates were more of a secondary plot in the second book became the prime focus and plot point in this third book and even though it wasn't following the same Caraval formula, it still kept the overall flow of the series. I like that there was a lot more of history and character backstory to this book than before, which is how it was able to have a connection to the previous books, and it let you see the entire picture without ever feeling overwhelmed with information or distant from the original plot. It was important to learn a little about Legend's origins in the first book as much as it pertained to the Caraval game, and it was important to learn a little about the Fates origins in the second book as much as it pertained to that Caraval game, because we'd fully explore them in the final book because that's when it most mattered. I just really enjoyed how Garber has plotted everything in this series and love the story she told overall and not once did I think a plot line was pointless.
Another thing I love about Garber's writing is how I always go into it thinking one thing is going to happen and she surprises me and throws a curveball my way. From the way the second book ended and from the synopsis of this book, you expect there to be a giant love triangle between Scarlett, Julian, and the count she'd been engaged to. It sounds like there's going to be an annoying competition for her hand, which is like grossly misogynistic and almost had me doubting Garber's abilities, but then, in a completely smart way, she puts an end to that assumption. You also believe there'll be one between Tella, Legend, and Jacks, but Garber also ends that the way it should. I get that the reason for love triangles is to show that bond of true love and show how strong the love between two people can be, but most triangles have that annoying back-and-forth factor and the person in the middle loves both people in the triangle. This is different because a) neither Scarlett or Tella love both people in their "triangles" and b) the purpose of the faux love triangles really is to highlight the power of love between Scarlett and Julian and Tella and Legend. Scarlett and Julian's triangle was solved rather quickly and therefore the message was clear pretty early, but Tella and Legend took a while for me to understand. I always think triangles are added just for the drama of it all but by the end of the book you see what Garber was trying to accomplish by involving Jacks with Tella, annoying as it might've been, it had a point. And that point was not only to have Tella realize how true her feelings for Legend were but to emphasize how love is the true magic. That sounds cliche but if you read the book, you know what I'm talking about. I might've question what Garber was doing initially but now I know better and I respect everything about her writing. And all my ships are endgame and it's beautiful.
I thought the involvement of the Fates were pretty interesting in this book, Jacks notwithstanding. I liked how the Fallen Star was the big bad of the book, and appeared to be the big bad before all this started, and liked the (somewhat predictable) connection to the Dragnas. I liked seeing how some of the other Fates wanted to go against him and work with Legend and gang while there were some who were on his side. It brings an element of moral ambiguity, which I love, but it also shows how much power the Fallen Star has over everyone and how they all feel about what he's done. They're not quite good guys, but they're not bad guys either, and I liked it.
All I'm gonna say about the ending is that I loved the route Garber took with it and I felt that every character played their role perfectly and truly showcased their character developments, especially Tella and Legend. It was quite wonderful.
THE BAD
As much as I loved the book, I have some minor complaints. I enjoyed how it ended as a whole, and loved how Tella kind of became the hero, which is great when she always seemed to be looking for a hero in her own story but became her own hero, but I just feel like that final chapter could've been more. For one, I don't fully understand how or why Scarlett is the new empress, why she would even want it, or if her mother being Elantine's daughter is actually true. I also don't like how we never really learned what Legend's true name is and if Dante was just a character he was playing. I wanted to know his name and it bothered me how everyone just kept calling him Legend, even after everything. But that little open ending made me wish for more, which was rude but also kind of brought everything full circle so I'm fine with it.
I also didn't fully love how the POV chapters weren't entirely even between Scarlett and Tella, and I seemed to care more about Tella's story than Scarletts, which is interesting. I just wish there was a stronger structure this time around, but loved the stories nonetheless.
THE BOTTOM LINE
This book is called Finale because it really is the grand finale of the whole series. The stakes were definitely higher and everything felt super charged and you were always drawn in and connected from the get go. The writing was as superb as always, the characters were shining brighter than ever, and the series ended on a pretty high note. The world of Caraval is beyond magical and I have been impressed and enamoured every step of the way. I still can't believe this was Garber's first series because it was pretty spectacular. My heart is so full.
BONUS: how this book made me feel in a GIF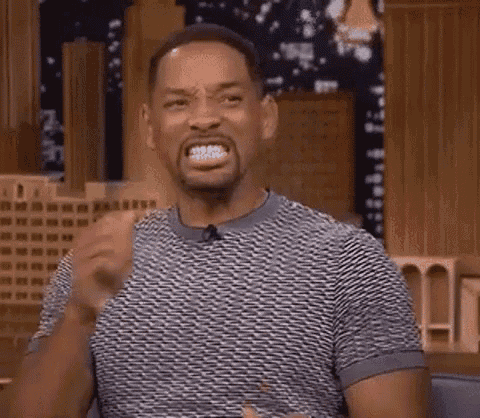 ABOUT THE BOOK
Title: Finale (Caraval #3)
Author: Stephanie Garber
Release Date: May 7, 2019
Pages: 496 (Hardcover)
Goodreads
Until next time,
Twitter ♡ Instagram ♡ Goodreads
What did you think of the book? Leave a comment below!