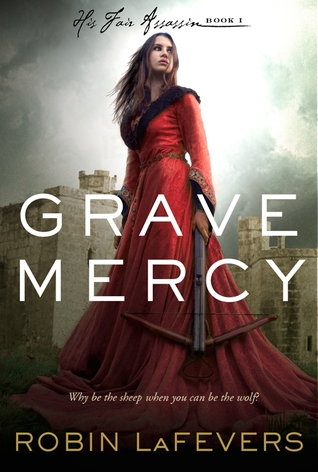 ☆☆☆☆
Why be the sheep, when you can be the wolf?

Seventeen-year-old Ismae escapes from the brutality of an arranged marriage into the sanctuary of the convent of St. Mortain, where the sisters still serve the gods of old. Here she learns that the god of Death Himself has blessed her with dangerous gifts—and a violent destiny. If she chooses to stay at the convent, she will be trained as an assassin and serve as a handmaiden to Death. To claim her new life, she must destroy the lives of others.

Ismae's most important assignment takes her straight into the high court of Brittany—where she finds herself woefully under prepared—not only for the deadly games of intrigue and treason, but for the impossible choices she must make. For how can she deliver Death's vengeance upon a target who, against her will, has stolen her heart?
The very first thing I ever did when I joined Goodreads almost 4 years ago was mark this book "to be read" because there was something about it that made me want to read it. And yet, I would never pick it up. I'd see it in the store and be like "ah yes, you're on my TBR" but never actually buy the book. I'd see other people reading it or talking about it and I'd think "oh hey, I want to read that book" and still, nothing. I thought if I got this book for Christmas it would finally be that push I need to read it, and it helped, but Christmas was also 5 months ago. So that didn't quite work. But finally, I was, let's say delicately pushed into reading this book and boy, what a book it was. I think I really underestimated this book when I shelved it and really had no idea what I was getting myself into. It had such an intriguing plot but it also had fantastic characters and relationship dynamics and a historical element I honestly did not expect but love nonetheless. Was it absolutely, heartstoppingly perfect? No, but it was still pretty damn good.
THE GOOD
Just to get this out of the way, this was my very first experience reading anything by Robin LaFevers and I gotta say, I'm pretty impressed by her writing. I always try to give new authors the best chance I could possibly give them and it did take a minute with LaFevers but a lot of things about her writing just clicked with me. I really loved how she managed to stay true to 15th century language and manner of speaking but not do it in a way that was overwhelming, which I've experienced before. Like, I know you want to be true to the time period in which your story is set but you gotta remember who you reader is. But for me, it felt like she managed to find the right balance and straddled the line of relaxed, modern English and Middle Ages English, even if it was set in Brittany. But also, and I don't know if this was just me, but when I was reading dialogue and conversations, there were times where in could appear to be "old" and stiff, but it was actually how French would read translated into English and I really don't know if LaFevers did it on purpose but if she did, then her writing just shot straight up for me. Apart from dialogue, I felt like the pacing was really well done and managed to keep your interest regardless of what kind of scene you were reading. Every scene had a purpose and not once did I feel like I was reading anything that resembled filler, and that's really hard. I just loved everything about LaFevers writing, and even though it took a few pages to really get going, once it did it was great.
I think sometimes in stories similar to this, we're more or less expected to like the protagonist and kind of have to accept her as some kind of badass because she's a trained assassin. But what I loved about Ismae was that it never felt like she flaunted her assassin ways or status and it didn't quite feel like a defining trait like I've seen in the past. You know, like something SJM would do. I liked that Ismae lived almost by a code and it was that she would only kill when she was either told to, either by the convent or by seeing the marque, or if it was in self-defence. She didn't come off as the kind of assassin that's trigger happy or flaunted her skills by killing every person that crossed her path, which I thought was really great to see, and it was a better way to show off her skills because it demonstrated her control of herself and loyalty to the rules of her convent. I think that shows so much more strength than killing any man could, and that's why I respect Ismae. She never acted against her saint's wishes, never attacked without reason, and still maintained such a strong characterization that I loved. And I felt that the more time she spent with Duval and the duchess, the more she interacted with others and built relationships, the more human she became, I suppose, because in the convent it seems all they know is murder and how best to kill but don't quite learn about human interaction, and I liked seeing that kind of growth with Ismae. She learned how to feel and to love and to protect and to hurt, and mostly to show mercy. She grew so much in this book and I was here for every step of the way.
I was not prepared for the amount of historical influence this book had but I am not mad about it whatsoever. As a person with a BA in history, anything that even slightly revolves around history will pique my interest, and I'm kind of disappointed in myself for taking almost 200 pages to realize that Brittany was an actual place and wasn't made up, like my stupid mind thought. That alone should revoke my degree, to be honest. But in the author notes, LaFevers noted how there were little to no maps from Brittany and a lot of the setting and castles and all that of the sort had to come from her own imagination, and I loved the liberties she took with it because I definitely bought it. And the amount of research she did to make sure she wouldn't really "ruin" history was outstanding. She found loopholes to make Duval exist, took actual historical events and made them work in her plot and I appreciate every step she took to write a good book but still respect history. I also loved nerding out over how historical it all felt and reading about all the war strategy and talks of alliances and coronations, the plotting and the scheming, it all felt so exciting and fast paced. It was just great.
I know this book came out a really long time ago and I'm like the last person to read it, but I don't want to give away anything about how it ended but I loved what happened and how everything was handled, from Ismae realizing her true purpose and understanding the reason for her gifts to securing Anne's safety and duchy. It was all very smart and well done and I commend LaFevers for all of it. It was so, so well done.
THE BAD
I really wanted to love the romantic relationship between Ismae and Duval, which I did enjoy quite a lot, but I felt like it could've been more. I feel like we were cheated out of a lot more romantic development and there could've been more scenes of them together where they spoke of their growing feelings rather than realizing it themselves and just mutually accepting it, I guess. I did get a bit emotional about them and was definitely invested, but I just wish there was more. It was good, but it could've been great.
THE BOTTOM LINE
I will continually be kicking myself for leaving this book on my TBR for years but now that I've finally read it, I couldn't be happier. I loved the intense plot, the historical influence, and the fantastic characters that are probably everything I could ask for out of a YA historical fantasy. This was a book that really did it for me and if you want to read this, do it now. Don't wait 4 years like me. I was dumb but I've learned from my mistakes (hopefully).
BONUS: how this book made me feel in a GIF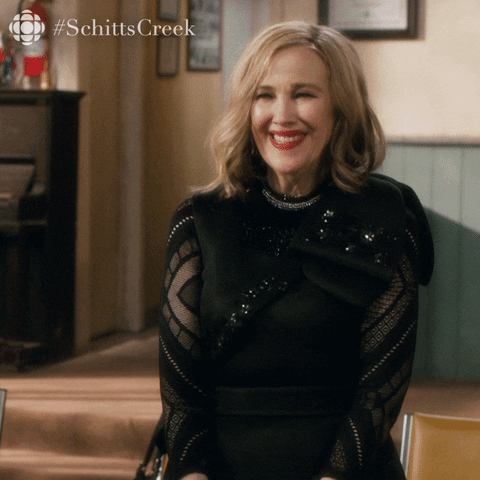 ABOUT THE BOOK
Title: Grave Mercy (His Fair Assassin #1)
Author: Robin LaFevers
Release Date: April 3, 2012
Pages: 576 (Paperback)
Goodreads
Until next time,
Twitter ♡ Instagram ♡ Goodreads
What did you think of the book? Leave a comment below!